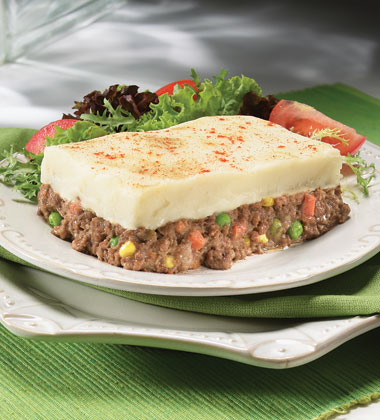 Nutrition Facts
Amount Per Serving
% Daily Value
Ingredients
Potatoes, Beef, Water, Onions, Butter (milk), Carrots, Corn, Peas, Enriched Wheat Flour, Modified Corn Starch, Salt, Garlic (garlic, water, soybean oil, citric acid), Cream, Tomato Paste, Worcestershire Sauce (vinegar, water, molasses, glucose-fructose, onion, anchovies, salt, garlic, tamarind extract, spice), Onion Powder, Caramel Colour, Spices, Beef Flavour (hydrolyzed soy protein) Dehydrated Garlic and Paprika.
A flavourful and hearty combination of ground beef simmered in a rich brown gravy, with a layer of peas and corn, topped with buttery mashed potatoes.
Features And Benefits
Consistent, finest quality, oven ready. Just heat & serve. Save time and labour with Campbell's Entrees.
Calorie Calculator
| | | | | | |
| --- | --- | --- | --- | --- | --- |
| | | | = | | Calculate calories right here! |
Preparation
Conventional Oven 400ºF / 200ºC Frozen: tent lid, heat for 1hr40min. Remove lid heat for additional 20-30min. Refrigerated: tent lid, heat for 1hr20min, remove lid, heat for additional 15-20min. Convection Oven 350ºF / 180ºC Frozen: tent lid, heat for 1hr20min, remove lid, heat for additional 15-20min. Refrigerated: tent lid, heat for 55min, remove lid, heat for additional 15min. Steamer, Frozen: heat for 1hr30min. Refrigerated heat for 1hr10min.
Handling
Do not re-freeze. Do not use if film is torn or missing. Do not hold refrigerated product longer than 2 days.
Storage
Shelf Life: 21 months
Storage Temperature: C
Serving Ideas
Serve as an entrée with a side of salad or vegetables. Top with grated cheese for added interest.
Packaging Details
Case Size:
53.67CM x 33.17CM x 9.68CM
(L x W x H)
Other Information
For More Information call our Creating Possibilities Hotline at 1-800-461-7687
For more information on our products, contact your distributor or call 1-800-461-7687..
Supporting Materials
To find out more about our merchandising and point of sale options, contact your Campbell's representative or call (800) 461-SOUP (7687) and ask about how your operation can benefit from our support.