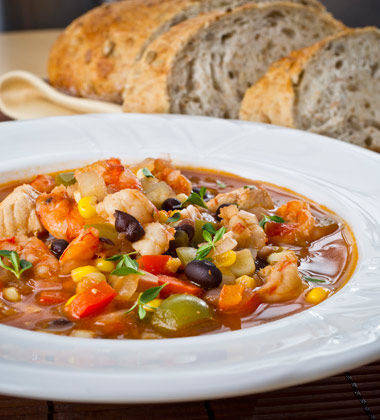 Travel to Mexico by tasting this seafood-based stew that uses Pace® Chunky Salsa as a base and fills up with black beans, fish, shrimp and corn with a fresh cilantro finish.
Recipe Yields:
NOTE: Use your professional judgement when resizing recipes. Seasoning, cooking times, etc, may require adjustment.
| | | |
| --- | --- | --- |
| Ingredients | Metric | Imperial |
1. In large pot heat oil over medium-high heat; add onions and cook 4 minutes. Add cumin and continue cooking 1 minute. Stir in peppers and sauté 6-8 minutes more.
2. Pour in Pace® Salsa, V8® Vegetable Cocktail and water and bring to a boil; reduce heat and simmer stew base 10 minutes.
3. Stir in black beans and corn and return to a simmer; cook 5 minutes.
4. Add fish and shrimp and cook 3-4 minutes. CCP: Heat to an internal temperature of 165°F (74°C) or higher for 15 seconds. CCP: Hold hot at 140°F (60°C) or higher for service.
5. Just before service, stir in cilantro.
6. To Serve: Ladle 8 fl oz (250 mL) stew into a bowl or soup plate. Top with a ½ Tbsp (8 mL) dollop of sour cream, if desired.