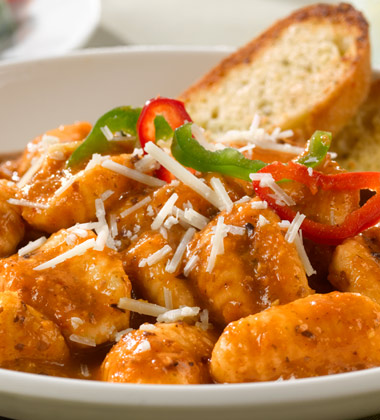 Blend Southwestern Vegetarian Chili and toss with cooked gnocchi or pasta. Top with herbs and crumbled goat cheese.
Recipe Yields:
NOTE: Use your professional judgement when resizing recipes. Seasoning, cooking times, etc, may require adjustment.
| | | |
| --- | --- | --- |
| Ingredients | Metric | Imperial |
1. Place Campbell's® Signature Southwestern Vegetarian Chili in blender and blend until smooth.
2. Add in the hot Artisan by StockPot® Vegetable stock. Adjust as needed to get the right consistency of sauce. Hold hot.
3. Boil the gnocchi in water until tender. Take out carefully and hold without water.
4. Place a portion of sauce in a sauté pan and add the gnocchi. Toss lightly and serve in a warm bowl.