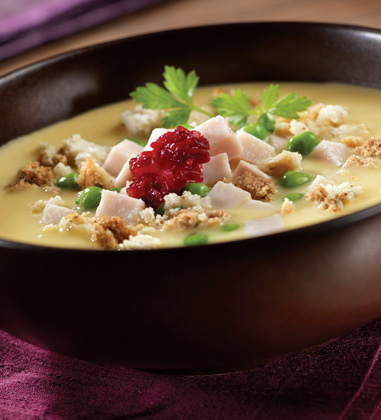 Put a spin on a traditional meal with Campbell's® Condensed Cream of Mushroom soup, turkey, green beans, sage seasoning and cranberry sauce.

Recipe Yields:
NOTE: Use your professional judgement when resizing recipes. Seasoning, cooking times, etc, may require adjustment.
| | | |
| --- | --- | --- |
| Ingredients | Metric | Imperial |
Campbell's Condensed Cream of Mushroom Soup

Water

1

.36 L

48

oz
Sage, dry, rubbed

25

mL

1 1/2

tbsp
Beans, green, frozen, pieces

375

mL

1 1/2

cups
Parsley, fresh, minced

125

mL

1/2

cup
Turkey, cooked, diced 1/2-in (1 cm)

900

g

2

lbs
Cranberry sauce or jelly

250

mL

1

cup
1. In soup pot, mix soup, water and spice mix; bring to a simmer.
2. Stir in beans and turkey; return to a simmer.
CCP: Heat to an internal temperature of 165°F (74°C) or higher for 15 seconds.

3. Just before serving, stir in parsley
4. Portion 1 cup (250 mL) soup in a bowl.
CCP: Hold hot at 140°F (60°C) or higher for service.

5. Garnish each serving with 1 tbsp (15 mL) cranberry sauce.

Note for pureed diets: puree in small batches in food processor.
Reheat the soup to internal temperature of 140°F (60°C).