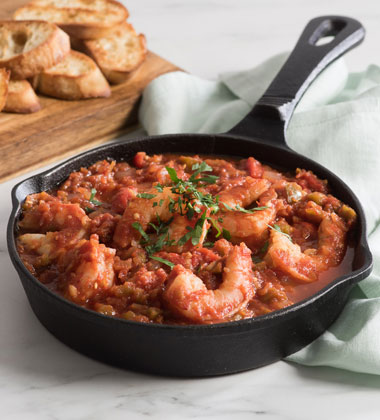 Nutrition Facts
Amount Per Serving
% Daily Value
This fragrant skillet appetizer feeds a crowd easily, marrying sweet shrimp with tangy salsa, and plenty of sauce for dunking toasted bread.
Recipe Yields:
NOTE: Use your professional judgement when resizing recipes. Seasoning, cooking times, etc, may require adjustment.
| | | |
| --- | --- | --- |
| Ingredients | Metric | Imperial |
hot water

30

mL

2

tbsp
crushed saffron threads

1

mL

2 1/4

tsp
minced garlic

1

mL

1/4

tsp
mayonnaise

125

mL

1/2

cup
lemon zest

1

mL

1/4

tsp
fresh lemon juice

1

mL

1/4

tsp
olive oil, divided

150

mL

2/3

cup
large shrimp, peeled, deveined and tails removed

1 1/2

g

3

lb
sliced roasted red peppers, drained

125

mL

1/2

cup
garlic, thinly sliced

2

cloves

2

cloves

Pace® Mild Chunky Salsa

sliced 1/4-inch (5 mm) thick

1/2

baguette

1/2

baguette
finely chopped fresh parsley

30

mL

2

tbsp
1. Lemon Saffron Mayonnaise: Stir together hot water, saffron and garlic; let cool slightly.
2. In bowl, whisk together mayonnaise, lemon zest and lemon juice. Stir in saffron mixture until well combined. Refrigerate until ready to use.
3. Heat 1/3 cup (75 mL) oil in large skillet set over medium-high heat; sauté shrimp, red peppers and garlic for about 2 minutes or until shrimp begins to turn pink. Remove shrimp from pan.
4. Add salsa; bring to boil. Reduce heat to simmer; cook for 10 to 15 minutes or until slightly thickened.

5. Meanwhile, preheat oven to 400°F (200°C). Lay baguette slices in single layer on large baking sheet; brush with remaining olive oil. Bake for 10 to 12 minutes or until crisp and browned.

6. Return shrimp to skillet; heat for 1 minute. Sprinkle with parsley. Drizzle with Lemon Saffron Mayonnaise and serve with toasted baguette slices.