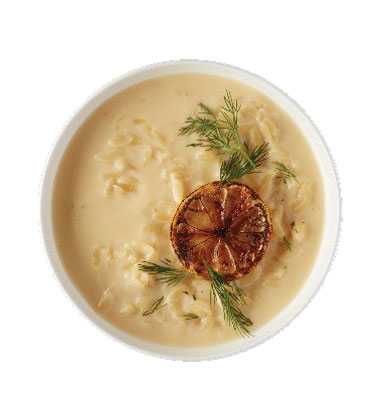 Recipe Yields:
NOTE: Use your professional judgement when resizing recipes. Seasoning, cooking times, etc, may require adjustment.
| | | |
| --- | --- | --- |
| Ingredients | Metric | Imperial |
Campbell's Low Sodium Chicken Stock

prepared as per package directions

Orzo pasta

125

mL

1/2

cup
Eggs, large

Fresh lemon juice

1

lemon

1

lemon
Lemon zest, grated

5

mL

1

tsp
Pepper

Dill, chopped

30

mL

2

tbsp
Lemon, sliced

1

1
1. In a large stockpot, bring prepared Campbell's Low Sodium Chicken Stock to a boil.
2. Add in orzo, cover and simmer about 7-8 minutes until orzo is al dente. Remove stockpot from heat and set aside.
3. Whisk eggs in a bowl until thick. Add in lemon juice and zest and whisk until thick and frothy. Gradually add in 1/2 cup stock from stockpot, whisking constantly. Add in 1 more cup of broth at a time, whisking after each addition.
4. Pour the egg, lemon and stock mixture back into stockpot, turn the heat to medium-low and reheat, stirring until the egg cooks and soup begins to thicken slightly. Do not let the soup boil, or it will curdle!

5. Add pepper to taste.
6. While the soup is reheating, place slices of lemon under the broiler until charred, about 4-5 minutes each side.

7. Place soup in a bowl and garnish with chopped dill and charred lemon slices.