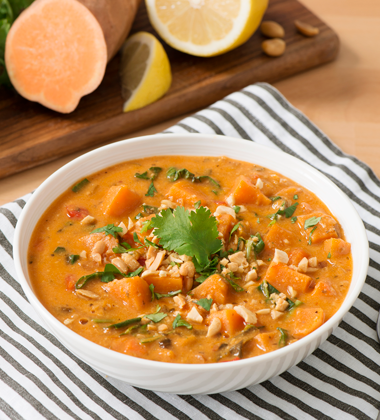 Rich and velvety, this hearty and nutritious vegetable stew is packed with flavour and texture.
Recipe Yields:
NOTE: Use your professional judgement when resizing recipes. Seasoning, cooking times, etc, may require adjustment.
| | | |
| --- | --- | --- |
| Ingredients | Metric | Imperial |
1. Heat oil in large rondeau set over medium heat; cook sweet potatoes for about 5 minutes or until slightly softened. Add garlic, ginger, cumin, coriander, paprika and hot pepper flakes. Cook, stirring, for about 5 minutes until fragrant.
2. Stir in soup; bring to simmer, stirring often. Stir in collard greens and peanut butter. Cook for 15 to 20 minutes or until sweet potatoes and collard greens are tender and stew is thickened. Stir in lemon juice. Keep warm for service. (Makes 11 cups/2.6 L).
Recipe Tip
Ladle 1 1/2 cups (345 mL) stew into serving bowl. Top with 2 tbsp (30 mL) peanuts and 1 tbsp (15 mL) cilantro.