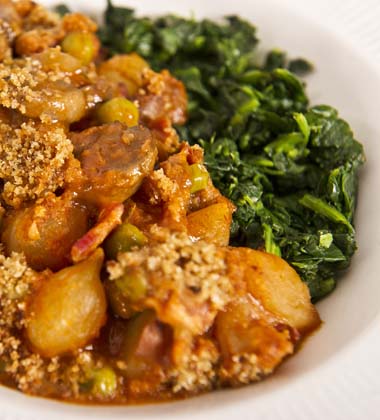 The mushrooms and beef strips in this Bourguignon, complemented by rosemary and paprika, help deliver a hardy dish using Campbell's®Condensed Reduced Sodium Tomato soup.

Recipe Yields:
NOTE: Use your professional judgement when resizing recipes. Seasoning, cooking times, etc, may require adjustment.
| | | |
| --- | --- | --- |
| Ingredients | Metric | Imperial |
1. In large pot, heat oil over medium-high heat; add onion and sauté 4 minutes.

2. Stir in garlic and continue to cook 2 minutes, stirring often.
3. Mix in beef strips, mushrooms, rosemary and paprika and cook, stirring often, until starting to glaze, about 8 minutes.
4. Deglaze pan with wine and Worcestershire sauce and cook 8-10 more minutes.
5. Pour in soup and bring to a simmer; cook 5 minutes, stirring often. Stir in potatoes, onions and peas and simmer 2 minutes.

6. Transfer mixture to a lightly greased, full size (12 x 20 x 3-in.) hotel pan.
7. In small bowl combine crumbs and oil and top filled steam table pan evenly with crumb mixture.

8. Bake in a 375°F (190°C) conventional or 325°F (165°C) convection oven 35-40 minutes or until golden brown and bubbly.

CCP: Heat to an internal temperature of 165°F (74°C) or higher for 15 seconds. CCP: Hold hot at 140°F (60°C) or higher for service.