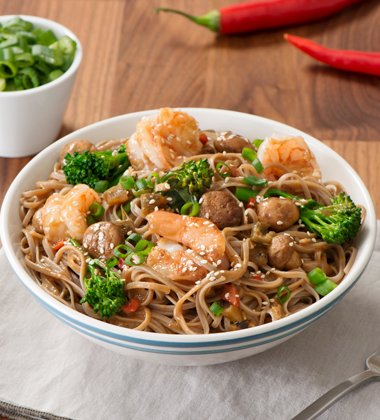 This light and lively stir-fry is accented with sesame seeds and spices for a fresh healthy lunch or dinner plate.
Recipe Yields:
NOTE: Use your professional judgement when resizing recipes. Seasoning, cooking times, etc, may require adjustment.
| | | |
| --- | --- | --- |
| Ingredients | Metric | Imperial |
1. In large bowl, whisk together soup, water, soy sauce, vinegar, garlic, sesame oil, sugar and chili pepper.
2. In pot of boiling water, blanch soba noodles for 3 to 5 minutes; drain and rinse in cold water.
Recipe Tip
Heat 1 tbsp (15 mL) oil in skillet set over high heat; stir-fry 4 to 5 shrimp, 5 to 6 mushrooms and pinch of salt for about 1 minute or until shrimp start to curl and turn pink. Stir in 4 to 5 florets broccolini; stir-fry for 1 minute. Stir in 1 cup (250 mL/6.5 oz) soup mixture; bring to boil. Stir in 1 cup (250 mL) soba noodles; cook for about 1 minute or until sauce thickens and clings to noodles. Transfer to serving dish. Garnish with 1 tbsp (15 mL) green onions, 1 tsp (5 mL) sesame seeds and 1 tsp (5 mL) sriracha hot sauce.