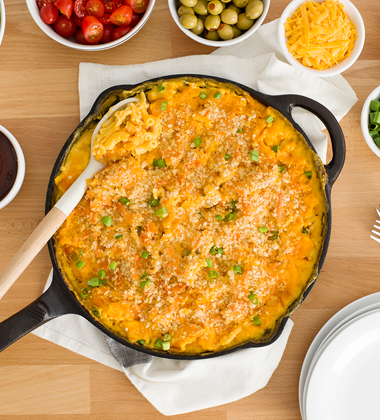 This a fun idea – customers can customize their own dish for the ultimate macaroni and cheese.
Recipe Yields:
NOTE: Use your professional judgement when resizing recipes. Seasoning, cooking times, etc, may require adjustment.
| | | |
| --- | --- | --- |
| Ingredients | Metric | Imperial |
1. Preheat oven to 400°F (200°C). Add Campbell's Macaroni and Cheese to large 14-inch (35 cm) cast iron skillet. Combine Cheddar, Parmesan and breadcrumbs; sprinkle over Campbell's Macaroni and Cheese.

2. Bake for 25 to 30 minutes or until top is golden brown and edges are bubbling.
Recipe Tip
Arrange broccoli, grape tomatoes, olives, artichokes, jalapeño peppers, Parmesan, green onions, barbecue sauce, bacon, sriracha and pesto in containers in salad bar format for service.

Heat mac and cheese according to package directions. Hold for service or heat to order. Serve 1 1/3 cups (325 mL/10.6 oz) portion per serving in bowls. Instruct customer to add self-serve toppings at Mac and Cheese bar.