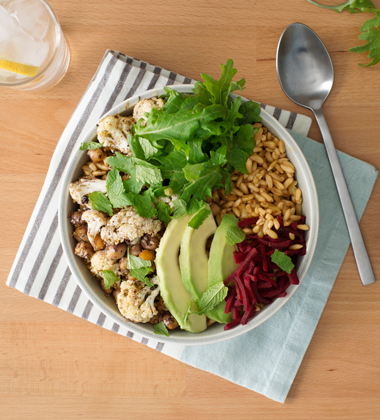 This eye-catching power bowl, inspired by flavours of the Middle East, is packed with both flavour and nutrition.
Recipe Yields:
NOTE: Use your professional judgement when resizing recipes. Seasoning, cooking times, etc, may require adjustment.
| | | |
| --- | --- | --- |
| Ingredients | Metric | Imperial |
1. In saucepan, bring soup and water to boil; stir in soaked kamut. Reduce heat to low; cover and simmer for 30 to 40 minutes or until liquid is absorbed and kamut is tender. Let stand for 10 minutes. Keep warm for service. Makes 8 cups.
2. Preheat oven to 425°F/220°C. Toss together cauliflower, chickpeas, olive oil, dukkah, salt and pepper until well coated. Arrange on parchment paper–lined baking sheets. Bake for 15 to 20 minutes or until cauliflower is lightly charred and tender. Can be served room temperature for service. Makes 6 cups (2.5 lb).
3. Toss together kale, olive oil, lemon zest, lemon juice, mustard, honey and salt. Can be refrigerated for up to 4 hours for service.
Recipe Tip
Spoon 1 cup (250 mL) Kamut into serving bowl. Top with 3/4 cup (185 mL) Roasted Cauliflower and Chickpeas and 1/3 cup (80 mL) Lemony Kale, 3 slices avocado and 1 tbsp (15 mL) shredded beets. Sprinkle with 1 tbsp (15 mL) mint leaves and top with 3/4 tsp (4 mL) dukkah.