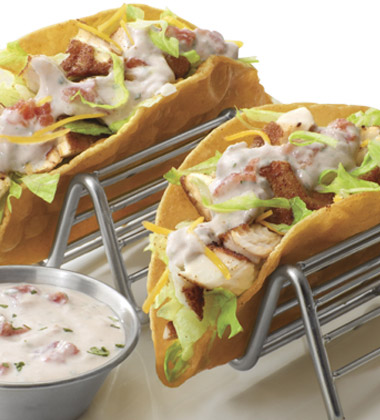 Most anything can be used to fill a taco but marinated, grilled fish stuffed into tortillas and slathered with Salsa and yogurt make this delicious and healthy
Recipe Yields:
NOTE: Use your professional judgement when resizing recipes. Seasoning, cooking times, etc, may require adjustment.
| | | |
| --- | --- | --- |
| Ingredients | Metric | Imperial |
1. In a bowl mix together yogurt, Salsa and cilantro; place in a covered container. Refrigerate. CCP: Refrigerate below 4°C/40°F at least 2 hours before using as directed.
2. In small bowl combine cumin, paprika, salt and pepper. Toss well to mix; cover and hold to use as directed.
3. Place fish filets on an oiled sheetpan and brush filets with oil. Sprinkle the spice rub evenly over both sides of fish. Grill fish over medium flame, 3-4 minutes per side or roast fish in 215°C/425°F. conventional or 190°C/375°F. convection oven 8-10 minutes until fish flakes easily when tested with a fork and internal temperature is 74°C/160°F. or higher for 15 seconds. Remove from heat and break each filet into pieces. CCP: Hold hot at 60°C/140°F or higher for service.
4. To Serve: Heat tortillas or taco shells according to package directions. Divide fish evenly between tortillas (130 g/1 1/2 oz. per) and top each with 1/4 cup lettuce, 15 mL/1 tbsp. cheese and 15 mL/1 tbsp. yogurt-salsa cream. Roll to enclose and serve. Or divide fish and fillings between 2 tacos per serving and serve while hot.