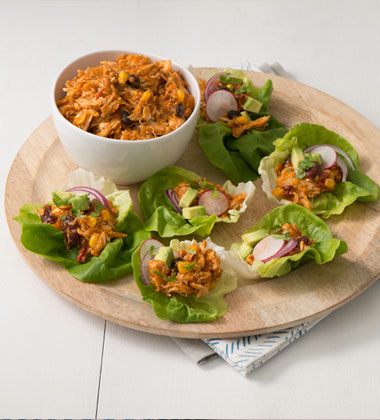 Nutrition Facts
Amount Per Serving
% Daily Value
Lettuce leaves add freshness and crunch to these savoury chicken tacos. Toppings can be customized easily for seasonal flavours.
Recipe Yields:
NOTE: Use your professional judgement when resizing recipes. Seasoning, cooking times, etc, may require adjustment.
| | | |
| --- | --- | --- |
| Ingredients | Metric | Imperial |
1. Preheat oven to 400°F (200°C). Toss together chicken breasts, olive oil, lime juice, chipotle, adobo sauce, garlic and salt. Arrange on baking sheet in single layer; roast for 15 to 20 minutes or until internal temperature of chicken registers 165°F (74°C). Shred meat with two forks.
2. In large saucepan set over medium-high heat, combine shredded chicken, soup and chicken broth; bring to boil. Reduce heat and simmer for 10 to 15 minutes or until thickened and heated through. Keep warm for service (makes 12 cups/3 L).
Recipe Tip
Serving: Divide 1 cup (250 mL) chicken mixture among 3 leaves of Boston lettuce. Top each with 2 tsp (10 mL) sliced radishes, 2 tsp (10 mL) sliced onions, 1 slice avocado and 1 tsp (15 mL) cilantro. Arrange on plate and serve with lime wedges.