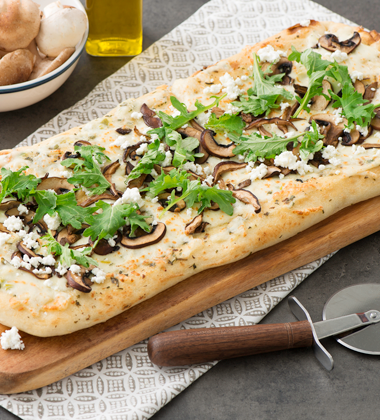 Toasted flatbread topped with a garlic and herb cream sauce, golden mushrooms and creamy cheese is a simple yet sophisticated appetizer or light lunch.
Recipe Yields:
NOTE: Use your professional judgement when resizing recipes. Seasoning, cooking times, etc, may require adjustment.
| | | |
| --- | --- | --- |
| Ingredients | Metric | Imperial |
1. Heat oil in large stock pot set over medium heat; cook garlic, thyme and sage for about 3 minutes or until fragrant. Stir in soup and cream. Bring to simmer; cook for 10 to 12 minutes or until slightly reduced. Let cool completely.
2. Heat butter and oil in large skillet set over medium-high heat; add mushrooms and cook for 12 to 15 minutes or until golden and tender. Season with salt and pepper. Let cool completely.
3. Spread 1/2 cup (125 mL) sauce over each flatbread. Top with 1/2 cup (56 g/2 oz) Asiago, 1/2 cup (125 mL) mushrooms and 1/4 cup (125 mL) crumbled goat cheese. Wrap well and refrigerate for up to 1 day.
Recipe Tip
Bake in 400?F ((200 C) ) oven on convection, for about 6 minutes or until bottom is crisp and top is golden. Cut into pieces. Top with 1/2 cup (125 mL) arugula.