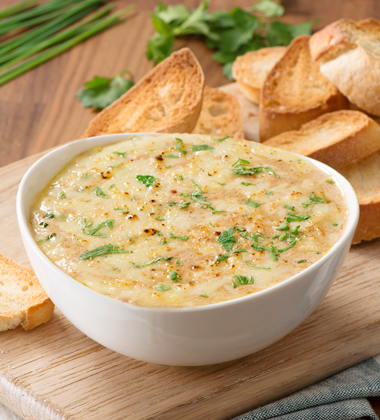 This ooey-gooey warm dip will create lots of oohs and aahs as it comes steaming and bubbling to the table.
Recipe Yields:
NOTE: Use your professional judgement when resizing recipes. Seasoning, cooking times, etc, may require adjustment.
| | | |
| --- | --- | --- |
| Ingredients | Metric | Imperial |
1. In large mixer, beat together soup, cream cheese, sour cream, mayonnaise, mustard and pepper until smooth. Stir Parmesan cheese and chives.
2. Divide 1 cup (250 mL) dip among 8 baking dishes/ramekins. Sprinkle each with 3 tbsp (45 mL) Gruyère cheese. Cover and refrigerate for up to 2 days.
3. Brush baguette slices with olive oil.
Recipe Tip
Preheat oven to 425°F (220°C). Per 2 servings, bake dip in 1 baking dish for 10 to 12 minutes or until golden brown and bubbly. Meanwhile, toast 8 baguette slices on baking sheet for about 5 minutes or until golden brown. Serve dip with toasted baguette slices. Garnish with 1 tsp (5 mL) parsley.