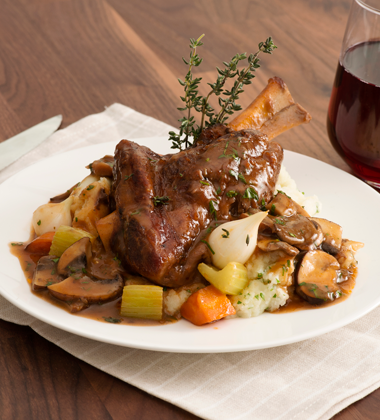 Tender lamb shanks are served with a rich and earthy mushroom sauce over creamy mashed potatoes for a dish that's sure to become a menu staple.
Recipe Yields:
NOTE: Use your professional judgement when resizing recipes. Seasoning, cooking times, etc, may require adjustment.
| | | |
| --- | --- | --- |
| Ingredients | Metric | Imperial |
1. Lamb Shanks: Preheat oven to 325°F (160°C). Season lamb shanks all over with salt and pepper. Heat half of the oil in large ovenproof pan set over medium-high heat; sear lamb, in batches, for 8 to 10 minutes or until browned all over, adding more oil as needed. Set aside. Add onions, carrots, celery, rosemary and thyme to pan; cook for about 10 minutes or until softened.
2. Stir in tomato paste; cook for 3 to 5 minutes or until deep red colour. Deglaze with red wine. Pour in soup and broth; bring to simmer. Return shanks to pan and submerge in liquid. Cover and transfer to oven; bake for 3 to 3 1/2 hours or until very tender.

3. Remove shanks and let cool completely. Strain braising liquid into large saucepan; add pearl onions. Simmer for 12 to 15 minutes or until liquid is reduced to 6 cups (1.5 L). Let cool completely. Shanks and sauce can be refrigerated separately for up to 3 days.
4. Place potatoes in large stock pot and cover with cold water; season well. Bring to boil; cook for about 15 minutes or until tender. Drain well; return to pot. Add cream, butter, salt and pepper; mash until very smooth. Stir in Parmesan, parsley and chives. Potatoes can be made up to 4 hours before service.
Recipe Tip
Serving: Heat 1 tbsp (15 mL) butter and 1 tbsp (15 mL) canola oil in skillet set over medium-high heat; sauté 1 3/4 cups mushrooms for 3 to 5 minutes or until browned and tender. Season with 1/4 tsp each salt and pepper. Add 3/4 cup (175 mL) reduced braising liquid and bring to simmer. Stir in 2 tbsp (30 mL) parsley.

Mound 1 cup (250 mL) warm Herb and Parmesan Mash in centre of shallow bowl. Top with warm shank and mushroom sauce.