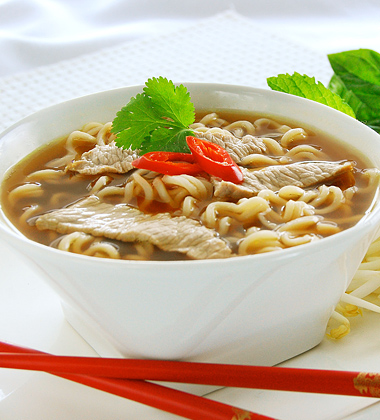 Noodle bowls or Pho are a staple in Vietnamese cuisine and there are many varieties. This tasty version combines lean beef with aromatic broth, rice vermicelli noodles and traditional garnishes.
Recipe Yields:
NOTE: Use your professional judgement when resizing recipes. Seasoning, cooking times, etc, may require adjustment.
| | | |
| --- | --- | --- |
| Ingredients | Metric | Imperial |
Rice Vermicelli Noodles, dry

250

g

8

oz

Artisan by Stockpot® Beef Stock

Onion, sliced

250

g

8

oz
Ginger, fresh

90

g

3

oz
Star Anise

5

pieces

5

pieces
Coriander Seeds

5

mL

1

tsp
Peppercorns, white preferred

5

mL

1

tsp
Cinnamon Stick

1

na

1

na
Fish Sauce (optional)

Filet of Beef, very thinly sliced

250

g

8

oz
Bean Sprouts

250

g

8

oz
Cilantro, finely chopped

125

mL

1/2

cup
Basil, fresh

125

mL

1/2

cup
Mint Leaves

125

mL

1/2

cup
Hot Chili Sauce

Lime Wedges

12

na

12

na
Red Chili, freshly chopped

4

na

4

na
1. Soak noodles in very hot tap water according to package directions until softened. Rinse under cold water and set aside.
2. Reconstitute Artisan Beef Stock according to package directions. Add onion, ginger, star anise, coriander seeds, peppercorns and cinnamon stick. Bring to a boil and then simmer for 30 minutes to 1 hour. Strain solids from the stock. Taste and adjust seasoning with fish sauce if required. Keep stock hot until ready to serve.
3. Prepare all the soup garnishes: slice the beef very thinly as for Carpaccio. Wash and drain all other garnishes. Arrange garnishes on a side plate to serve with the noodle bowl. Place a portion of noodles on the bottom of the bowl, top with raw slices of beef. Add boiling stock (this will cook the beef).