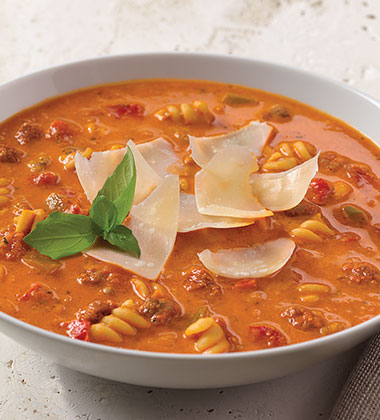 Nutrition Facts
Amount Per Serving
% Daily Value
Ingredients
WATER, CREAM, TOMATO PASTE, SEASONED BEEF (BEEF, SALT, FLAVOUR), DICED TOMATOES (TOMATOES, TOMATO JUICE, CITRIC ACID, CALCIUM CHLORIDE), RED PEPPERS, PASTA (WHEAT FLOUR, EGG WHITES), SAUSAGE (PORK, SEASONING, WATER, SALT), ONIONS, GREEN PEPPERS, SKIM MILK POWDER, MUSHROOMS, SUGAR, RED WINE, GARLIC, MODIFIED CORN STARCH, BUTTER, SALT, YEAST EXTRACT, PARMESAN CHEESE, ONION POWDER, DRIED PARSLEY, CITRIC ACID, SPICES (CONTAIN CHILI PEPPER), FLAVOURS.
This flavourful soup features seasoned ground beef, tender rotini, red and green peppers and sausage in a creamy tomato broth accented with garlic and Parmesan cheese.
Features And Benefits
Easy to prepare: Simply heat and serve
Ability to boil in the bag: Save time and labour
Consistent taste and appearance every time
Calorie Calculator
| | | | | | |
| --- | --- | --- | --- | --- | --- |
| | | | = | | Calculate calories right here! |
Preparation
Heat to 70°C (160°F) and hold for serving. Stir often. Do not dilute.
Handling
Keep frozen at 0°F (-18°C) or below. Thaw pouches (35-40°F / 2-4°C) for up to 15 days.
Storage
Shelf Life: 21 MONTHS
Storage Temperature: -18C
Serving Ideas
Serve Zuppa Alla Bolognese with Sweet Peppers in small bowl, place in one corner of a large rectangular plate. Serve with a side of olives, Provolone cheese, with sliced calabrese bread, rolled slices of prosciutto and salami, include a small fork, knife and spoon on the plate.
Packaging Details
Pack & Size:
4 x 1.81 kg (4lb) pouch
Case Size:
48.10CM x 24.61CM x 9.84CM
(L x W x H)
Other Information
For more information on our products, contact your distributor or call 1-800-461-7687..
Supporting Materials
To find out more about our merchandising and point of sale options, contact your Campbell's representative or call (800) 461-SOUP (7687) and ask about how your operation can benefit from our support.