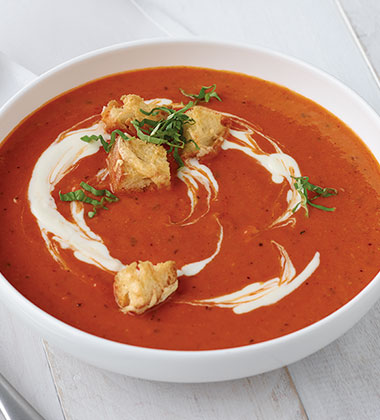 Nutrition Facts
Amount Per Serving
% Daily Value
Ingredients
CREAM (MILK), TOMATO PASTE, WATER, ROASTED RED PEPPERS,BUTTER, SUGAR, ONIONS, BUTTERNUT SQUASH, CANOLA OIL, SALT, GARLIC PURÉE,MODIFIED CORN STARCH, WHEAT FLOUR, SPICE EXTRACT (CONTAINS SOY LECITHIN, SPICES (CONTAIN CHILI PEPPER), CITRIC ACID, COLOUR,FLAVOUR.
A smooth, rich bisque made with tomatoes, roasted red peppers and butternut squash simmered with butter, real cream and garlic.
Features And Benefits
Fully Prepared: Pouch saves time and labour
Easy to prepare: Ability to boil in the bag
Consistent taste and appearance every time
Calorie Calculator
| | | | | | |
| --- | --- | --- | --- | --- | --- |
| | | | = | | Calculate calories right here! |
Preparation
This product has not been fully cooked before freezing. Carefully follow the recommended cooking directions to assure complete cooking.1. From a frozen or thawed state, immerse pouch in boiling water2. Heat product until 80º C / 180º F. 3.Using a ladle or insulated gloves, remove pouch from water.4. Open Pouch: Make a cut with a knife near top of pouch. Carefully pour into steam table insert or holding kettle. Do not add water or milk.
Handling
Keep frozen at 0°F (-18°C) or below. Thaw pouches (35-40°F / 2-4°C) for up to 15 days.
Storage
Shelf Life: 21 MONTHS
Storage Temperature: - 18C
Serving Ideas
Garnish with delicately curled yellow bell peppers accented with a fresh basil leaf. •Accent this soup with freshly shredded Gouda cheese surrounded by a flavourful pistou pattern. •Accent this exquisite soup with Parmesan cheese crisp topped with sweet tomato confit and a thyme sprig. •For a lovely Pasta Primavera in Blush Sauce, toss penne pasta and vegetables in a rich blend of fresh basil,cream and Verve® Roasted Red Pepper Bisque. Add cooked shrimp or chicken.
Packaging Details
Pack & Size:
4 x 1.81 kg (4lb) pouch
Case Size:
48.10CM x 24.61CM x 9.84CM
(L x W x H)
Other Information
*May include milk or milk products and eggs, but excludes meat, poultry, fish and seafood.
For more information on our products, contact your distributor or call 1-800-461-7687..
Supporting Materials
To find out more about our merchandising and point of sale options, contact your Campbell's representative or call (800) 461-SOUP (7687) and ask about how your operation can benefit from our support.