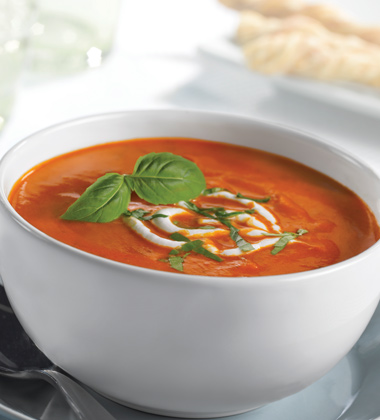 Nutrition Facts
Amount Per Serving
% Daily Value
Ingredients
WATER, TOMATO PASTE, DICED TOMATOES (TOMATOES, TOMATO JUICE, CITRIC ACID, CALCIUM CHLORIDE), CANOLA OIL, CREAM, SUGAR, ONIONS, BUTTER, SALT, MODIFIED CORN STARCH, BASIL, YEAST EXTRACT (BARLEY), WHEAT FLOUR, MODIFIED MILK INGREDIENTS, DRIED GARLIC, DRIED PARSLEY, ONION POWDER, ANNATTO, SPICES (CONTAINS CHILLIES).
A signature twist on traditional tomato soup, this delicious bisque is made with cream and butter, seasoned with onions and finished with a hint of basil for a premium flavour experience.
Features And Benefits
Easy to prepare: Simply heat and serve
Ready-to Serve pouch saves time and labour
Consistent taste and appearance every time

Calorie Calculator
| | | | | | |
| --- | --- | --- | --- | --- | --- |
| | | | = | | Calculate calories right here! |
Preparation
Heat to 71°C (160°F) and hold for serving. Stir often. Do not dilute.
Handling
Keep frozen at 0°F (-18°C) or below. Thaw pouches (35–40°F / 2–4°C) for up to 15 days.
Storage
Shelf Life: 21 months
Storage Temperature: -18C
Serving Ideas
• Tomato Basil Pasta
Reduce soup, toss with cooked pasta, then garnish with shredded Parmesan and parsley.
• Tomato and Bleu Cheese Dip
Make a creamy dip by mixing soup with bleu cheese crumbles and cream cheese. Ideal for veggies, flatbreads, crackers and chicken wings.
• Tomato Basil Bisque Shooter
Offer Tomato Bisque with Basil as a soup shooter on your appetizer menu, combine it with a classic grilled cheese sandwich, or add it as an accompaniment to mini sliders.
• Tomato Basil Bisque Spread
Mix thawed Tomato Bisque with Basil with mayo or aioli then use as a spread on sandwiches for a burst of fresh flavour.
• Tomato Basil Bisque Marinade
Use thawed Tomato Bisque with Basil as a simple, subtle marinade on pork, chicken or seafood.
• Tomato Basil Pesto Italian Enchilada Sauce
Smother enchiladas with a mix of Tomato Bisque with Basil, chili powder, cumin and oregano, then top with a drizzle of pesto for an Italian twist on a Mexican favourite.
• Tomato Basil Primavera Sauce
For a fresh vegetarian entrée, toss soup with broccoli, carrots, peas, green peppers and onions and mix with cooked pasta.
• Tomato Basil BBQ Sauce
Kick it up a notch – mix Tomato Bisque with Basil and barbecue sauce to create a sweet and tangy topping for ribs, chicken and more.
• Tomato Basil Vinaigrette
Reduce soup and mix with olive oil and lemon juice for a tangy tomato vinaigrette that's perfect on salads or grilled vegetables.
• Creamy Tomato Dressing
Add unique flavour to salads and sandwiches with a mix of reduced Tomato Bisque with Basil and French dressing.<!--
Packaging Details
Pack & Size:
4 x 1.81 kg (4 lb) pouch
Case Size:
48.10CM x 24.61CM x 9.84CM
(L x W x H)
Other Information
*May include milk or milk products and eggs, but excludes meat, poultry, fish and seafood.
For more information on our products, contact your distributor or call 1-800-461-7687..
Supporting Materials
To find out more about our merchandising and point of sale options, contact your Campbell's representative or call (800) 461-SOUP (7687) and ask about how your operation can benefit from our support.