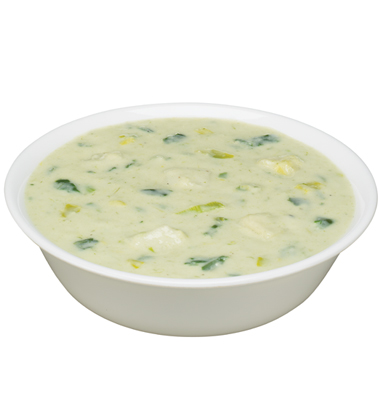 Nutrition Facts
Serving Size
125 mL condensed (250 mL prepared)
Amount Per Serving
% Daily Value
Ingredients
WATER, LEEKS, CREAM, REHYDRATED POTATOES, WHEAT FLOUR, ONIONS, MODIFIED CORN STARCH, CANOLA AND/OR SOYBEAN OIL, SKIM MILK POWDER, SALT, SUGAR, YEAST EXTRACT, SOY PROTEIN CONCENTRATE, ONION JUICE, ONION POWDER, LEMON JUICE CONCENTRATE, DRIED GARLIC, SODIUMPHOSPHATE, SPICE, FLAVOUR.
A rich, satisfying soup made with leeks, potatoes, real cream and onions. Finished with herbs and spices.
Features And Benefits
Easy to prepare: 1:1 Reconstitution with water (or milk for seafood chowders).
Our split pack tray results in quicker preparation time as it allows you to make half batches.
Our soups start with stocks, seasoning and other ingredients simmered to perfection. Vegetables are added last and therefore are cooked for the first time when you prepare the soup in your kitchen.
Calorie Calculator
| | | | | | |
| --- | --- | --- | --- | --- | --- |
| | | | = | | Calculate calories right here! |
Preparation
Cooking Directions Remove plastic film 1) Place 1 tray (2 blocks) of soup in pot. 2) Add one full tray (1.9 L or 8 cups) water and cover. 3) Heat to boiling (min. 80C/ 180F), stirring occasionally. Reduce heat (70C/ 160F) and cover. Stir periodically.
Handling
Do not re-freeze. Do not use if film is torn or missing.
Storage
Shelf Life: 21 months
Storage Temperature: -18C
Serving Ideas
As a soup, or ingredient in many of your favourite recipes. Add simple garnishes to create signature soups.
Packaging Details
Pack & Size:
3 x 1.81 kg (4lb) tub
Case Size:
45.09CM x 27.64CM x 7.80CM
(L x W x H)
Other Information
*May include milk or milk products and eggs, but excludes meat, poultry, fish and seafood.
For more information on our products, contact your distributor or call 1-800-461-7687..
Supporting Materials
To find out more about our merchandising and point of sale options, contact your Campbell's representative or call (800) 461-SOUP (7687) and ask about how your operation can benefit from our support.