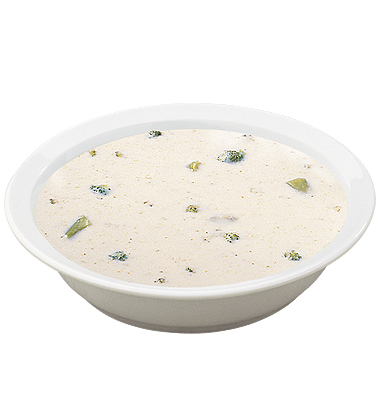 Nutrition Facts
Serving Size
125 mL condensed
Amount Per Serving
% Daily Value
Ingredients
WATER, BROCCOLI, CREAM, WHEAT FLOUR, MODIFIED CORN STARCH, MODIFIED MILK INGREDIENTS, SALT, VEGETABLE OIL (CANOLA, CORN, COTTONSEED OR SOYBEAN), SUGAR, MONOSODIUM GLUTAMATE, ONION POWDER, FLAVOUR, SPICE, DEHYDRATED GARLIC, BETA CAROTENE.
Delicate broccoli in cream, seasoned to perfection.
Features And Benefits
Easy to prepare: Reconstitute with water
Versatile: Can be used as-is or as an ingredient
Easy to store: Shelf stable requires no refrigeration
Calorie Calculator
| | | | | | |
| --- | --- | --- | --- | --- | --- |
| | | | = | | Calculate calories right here! |
Preparation
In a 4 quart pot, combine one can of soup and one can of milk. Simmer over low heat, stirring often.
Handling
Promptly refrigerate any unused portion in a separate container. Recommend use by date on can. Store unopened can at room temperature.
Storage
Shelf Life: 24 months
Storage Temperature: C
Serving Ideas
Serve as an appetizer or as part of a light meal. Excellent for use on soup and salad bars, and serving lines.
Packaging Details
Pack & Size:
12 x 1.36 L (48 oz) can
Case Size:
43.51CM x 32.72CM x 18.11CM
(L x W x H)
Other Information
*May include milk or milk products and eggs, but excludes meat, poultry, fish and seafood.
For more information on our products, contact your distributor or call 1-800-461-7687..
Supporting Materials
To find out more about our merchandising and point of sale options, contact your Campbell's representative or call (800) 461-SOUP (7687) and ask about how your operation can benefit from our support.