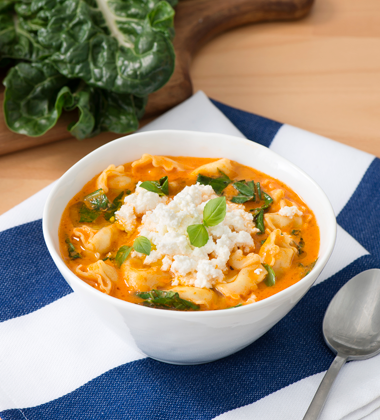 With the addition of tortellini, Swiss chard and ricotta, this soup makes a satisfying dinner starter or main for lunch.
Recipe Yields:
NOTE: Use your professional judgement when resizing recipes. Seasoning, cooking times, etc, may require adjustment.
| | | |
| --- | --- | --- |
| Ingredients | Metric | Imperial |
Campbell's® Verve® Tomato Roasted Red Pepper Bisque with Gouda

water

750

mL

3

cups
fresh cheese tortellini

567

g

1 1/4

lb
packed trimmed chopped Swiss chard leaves

2

L

8

cups
ricotta

500

mL

2

cups
torn fresh basil leaves

250

mL

1

cup
olive oil

60

mL

1/4

cup
1. Heat soup with 3 cups (750 mL) water in large stock pot set over medium heat; bring to simmer, stirring often, for 8 to 10 minutes or until heated through. Stir in tortellini and Swiss chard. Cook for about 5 minutes or until tortellini is cooked and Swiss chard is wilted. (Alternatively, heat soup according to package directions. Then add cooked tortellini and blanched Swiss chard just before service.) Keep warm for service. (Makes 21 cups/5.25 L).
Recipe Tip
Ladle 1 1/3 cups (325 mL) soup into serving bowl, ensuring that tortellini and Swiss chard are distributed evenly per portion. Top with 2 tbsp (30 mL) ricotta, 1 tbsp (15 mL) basil and 1 tsp (5 mL) olive oil.