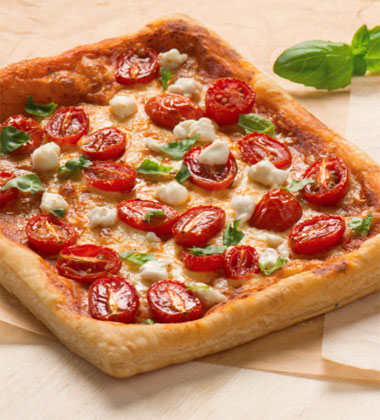 Nutrition Facts
Amount Per Serving
% Daily Value
These simple pizzas go together quickly and easily, but look – and taste! –sophisticated. Try them as appetizers or serve with soup and a salad for a relaxed supper.
Recipe Yields:
NOTE: Use your professional judgement when resizing recipes. Seasoning, cooking times, etc, may require adjustment.
| | | |
| --- | --- | --- |
| Ingredients | Metric | Imperial |
1. Preheat oven to 425°F (220°C). Line a baking sheet with parchment paper.

2. Halve pastry lengthwise; place both halves on prepared baking sheet. Set aside
3. Melt butter in a large skillet over medium heat. Sauté mushrooms and garlic for 5 to 7 minutes or until golden brown; pour in wine and sprinkle with salt and pepper. Cook for 3 to 4 minutes more, or until wine has mostly evaporated. Remove from heat and set aside.
4. Assemble pizzas: Spread 1/4 cup Campbell's® Verve® Tomato Roasted Red Pepper Bisque with Gouda evenly over each piece of puff pastry half, leaving a 1/2-inch (1 cm) border uncovered. Sprinkle each piece evenly with 1/2 cup mozzarella.
5. Sprinkle one piece of pastry with cooked mushrooms, pressing down lightly with back of spatula. Sprinkle other piece with tomatoes, pressing down lightly with back of spatula.

6. Bake for 20 to 25 minutes, or until pastry is golden brown; remove from oven.

7. Sprinkle each pizza with 2 tbsp crumbled goat cheese; let sit for 10 minutes. Sprinkle with basil. Cut each pizza into four pieces before serving.