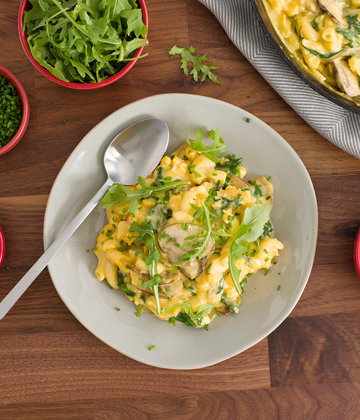 A mix of sautéed mushrooms add a meaty texture and earthy flavour to this vegetarian macaroni and cheese.
Recipe Yields:
NOTE: Use your professional judgement when resizing recipes. Seasoning, cooking times, etc, may require adjustment.
| | | |
| --- | --- | --- |
| Ingredients | Metric | Imperial |
1. Heat butter and oil in large rondeau or skillet set over medium-high heat; sauté mushrooms, onions, garlic, salt and pepper for 8 to 10 minutes or until golden and tender. Add wine; cook for 2 to 3 minutes or until most of the liquid has evaporated. Let cool completely and refrigerate for up 4 hours in advance of service.

2. Stir together Campbell's Macaroni and Cheese, and sautéed mushroom mixture. Reheat according to package directions. Stir in spinach. Hold for Service.
Recipe Tip
Serve 1 1/3 cups (325 mL/10.6 oz) portion per serving in bowls. Sprinkle with 2 tbsp (30 mL/0.2 oz) baby arugula, 1 tbsp (15 mL) Parmesan cheese and 1/2 tsp (2 mL/0.1 oz) finely chopped fresh chives.