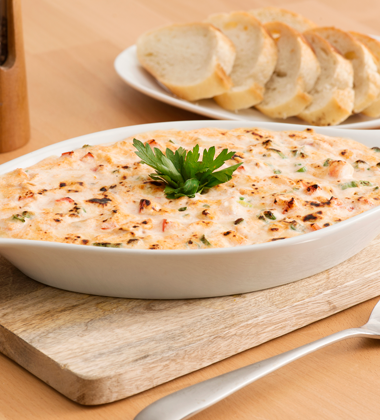 Loaded with crab meat and bursting with creole flavour, this shareable appetizer can be dressed up for a sophisticated menu or enjoyed simply for a casual experience.
Recipe Yields:
NOTE: Use your professional judgement when resizing recipes. Seasoning, cooking times, etc, may require adjustment.
| | | |
| --- | --- | --- |
| Ingredients | Metric | Imperial |
shredded Gruyère cheese

500

mL

2

cups
shredded white Cheddar cheese

500

mL

2

cups
grated Parmesan cheese

250

mL

1

cup
sour cream

1

L

4

cups
brick-style plain cream cheese

910

g

2

lb

Campbell's® Signature Condensed Creole Chicken Gumbo

red wine vinegar

60

mL

1/4

cup
finely chopped green pepper

500

mL

2

cups
finely chopped red pepper

500

mL

2

cups
finely chopped green onion

500

mL

2

cups
chopped cooked shrimp (26/30 count)

910

g

2

lb
baguettes, sliced into 40 rounds (1/4-inch/5 mm rounds), toasted
1. Toss together Gruyère, Cheddar and Parmesan; set aside 3 cups (750 mL). Beat together sour cream with cream cheese until smooth; beat in remaining cheese blend, soup and vinegar just until combined.
2. Stir in green pepper, red pepper and green onion until evenly distributed. Stir in shrimp. Dip can be refrigerated for up to 3 days.
Recipe Tip
Portion 2 cups (500 mL/17 oz) dip into shallow, narrow buttered dish. Top with scant 1/3 cup (80 mL) reserved cheese blend. Broil for 2 to 3 minutes or until top is golden and dip is bubbling. Serve with 12 baguette rounds for dipping.