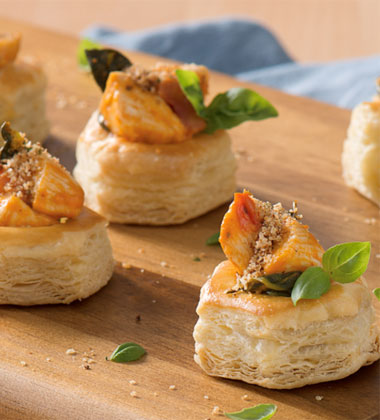 Nutrition Facts
Amount Per Serving
% Daily Value
Smooth tomato bisque enrobes tender chicken in these melt-in-your-mouth appetizers.
Recipe Yields:
NOTE: Use your professional judgement when resizing recipes. Seasoning, cooking times, etc, may require adjustment.
| | | |
| --- | --- | --- |
| Ingredients | Metric | Imperial |
Pepperidge Farm® Puff Pastry Mini Shells, thawed

Egg

water

1

mL

1

tbsp

Campbell's® Verve® Tomato Roasted Red Pepper Bisque with Gouda

35% whipping cream

30

mL

2

tbsp
cubed cooked chicken

125

mL

1/2

cup
loosely packed baby spinach

375

mL

1 1/2

cups
butter

15

mL

1

tbsp
garlic, minced

1

clove

1

clove
dried breadcrumbs

75

mL

1/3

cup
finely chopped fresh chives

15

mL

1

tbsp
dried oregano

2

mL

1/2

tsp
Pepper

Tip: Add pinch of cayenne to bisque for a spicy addition. Substitute cooked baby shrimp for chicken.
1. Preheat oven to 375°F (190°C). Whisk egg with water. Brush pastry shells with egg wash. Bake for 20 to 25 minutes.
2. Meanwhile, heat bisque and cream in small saucepan set over medium heat; bring to a simmer. Stir in chicken; cook for 5 minutes, stirring often, until chicken is heated through. Add spinach; cook for 1 minute or until wilted.
3. Meanwhile, melt butter in small skillet. Cook garlic for 1 minute or until softened. Stir in breadcrumbs, chives, oregano and pepper. Cook for 2 minutes or until toasted.

4. Spoon chicken mixture evenly into baked pastry shells. Sprinkle with breadcrumb mixture.