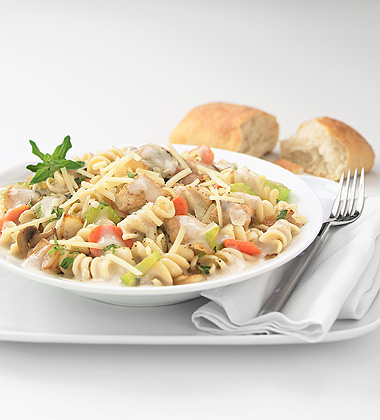 Recipe Yields:
NOTE: Use your professional judgement when resizing recipes. Seasoning, cooking times, etc, may require adjustment.
| | | |
| --- | --- | --- |
| Ingredients | Metric | Imperial |
1. Sauté carrot, onion, celery and garlic in olive oil for 2 minutes in a large pan, add chicken and continue sautéing until the chicken is barely cooked through. Add mushrooms and sauté for an additional 2 mins. Add oregano.
2. Combine soup with Swanson Chicken Broth and pepper. Mix well to create a sauce. Pour over chicken vegetable misture in the pan. Bring to the boil, then reduce heat, cover and simmer for 30 minutes.
3. Add pasta and reduce heat to low. Mix well every 5-10 minutes until all the liquid is absorbed ( approx 25 minutes).
4. Serve immediately. Top with grated Parmesan cheese if desired