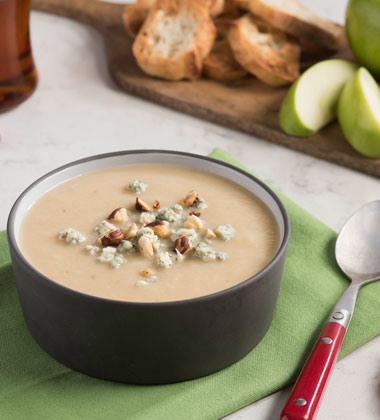 A sweet kiss of maple syrup brings the essence of Canadian cuisine to life in this easy to-prepare, yet deliciously complex soup – perfect for a celebration!
Recipe Yields:
NOTE: Use your professional judgement when resizing recipes. Seasoning, cooking times, etc, may require adjustment.
| | | |
| --- | --- | --- |
| Ingredients | Metric | Imperial |
softened unsalted butter, divided

150

mL

2/3

cup
thinly sliced onions

1.7

kg

3 3/4

lb
salt

10

mL

2

tsp
maple syrup

125

mL

1/2

cup
minced garlic

30

mL

2

tbsp
chopped fresh thyme

30

mL

2

tbsp

reconstituted Campbell's® Low Sodium Vegetable Stock

peeled, chopped tart apples (12.6 oz/357 g)

750

mL

3

cups
peeled, diced potatoes (10 oz/285 g)

500

mL

2

cups
sliced 1/4-inch (5 mm) thick

1

large baquette

1

large baquette
chopped toasted hazelnuts

125

mL

1/2

cup
blue cheese, crumbled

250

g

8

oz
2. Add vegetable stock, apples and potatoes. Bring to boil; reduce heat and simmer on medium-low for 15 to 20 minutes or until potatoes and apples are tender.

3. Remove soup from heat; using immersion blender, blend until smooth. Keep soup warm over low heat.
4. Preheat oven to 400°F (200°C). Lay baguette slices in single layer on large baking sheet; spread lightly with remaining butter. Bake for 8 to 10 minutes or until crisp and browned.
Recipe Tip
. Melt 1/2 cup (125 mL) butter in Dutch oven set over medium heat; cook onions with salt for 20 to 25 minutes or until tender and starting to caramelize. Add maple syrup; cook for 15 to 20 minutes or until onions are deep golden brown. Stir in garlic and thyme; cook for 2 minutes.
5. Ladle soup into serving bowls; top with toasted baguette, crumbled blue cheese and sprinkle of hazelnuts.