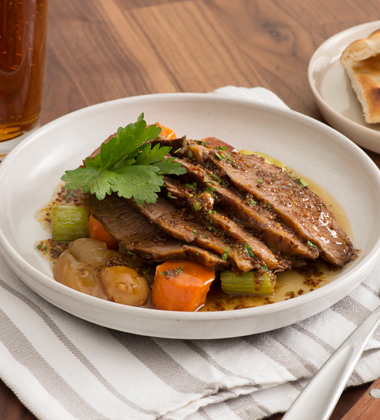 This melt-in-your-mouth bourbon braised brisket makes anyone feel like a barbecue king.
Recipe Yields:
NOTE: Use your professional judgement when resizing recipes. Seasoning, cooking times, etc, may require adjustment.
| | | |
| --- | --- | --- |
| Ingredients | Metric | Imperial |
1. Preheat oven to 325°F (160°C). Stir together salt, pepper, paprika and thyme; rub all over brisket. Heat oil in large ovenproof pan set over medium-high heat; sear brisket, turning halfway through, for about 10 minutes or until well browned. Remove from pan; set aside. Add onions, carrots and celery to same pan; cook for 3 to 5 minutes or until tender.
2. Deglaze with bourbon. Stir in soup, broth, honey and mustard; bring to simmer. Return brisket to pan; cover and transfer to oven. Braise for 5 to 6 hours or until tender but still holds shape.
3. Remove brisket from pan; transfer to cutting board and tent with foil. Let cool completely. Cut into 6 oz (175 g) portions. Meanwhile, strain braising liquid into separate saucepan; discard solids. Simmer for 12 to 15 minutes or until reduced by half. Brisket and sauce can be refrigerated for up to 2 days.
4. Whisk together honey, mustard and bourbon. Set aside for service.
Recipe Tip
Serving:
Brush 2 tbsp (30 mL) glaze over 1 portion of brisket. Broil for 2 to 3 minutes or until caramelized and heated through. Slice and top with 1/4 cup (60 mL) warm sauce.