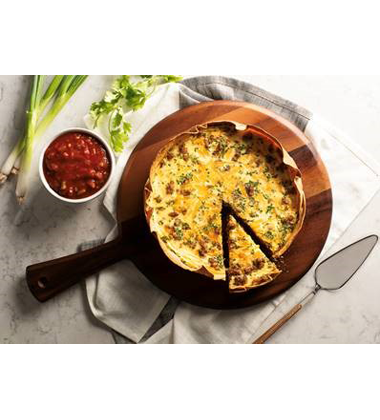 Nutrition Facts
Amount Per Serving
% Daily Value
No need for a heavy pastry crust because this quiche is lined with a crisp, golden tortilla base and filled with a rich and flavourful egg custard accented with browned pork, spices and Pace salsa.
Recipe Yields:
NOTE: Use your professional judgement when resizing recipes. Seasoning, cooking times, etc, may require adjustment.
| | | |
| --- | --- | --- |
| Ingredients | Metric | Imperial |
1. Grease two 10-inch (25 cm) springform pans. Using 1 tbsp (15 mL) oil, brush both sides of each tortilla. Lay 1 tortilla flat in bottom of each pan. Cut 4 tortillas in half; arrange four half-moons around inside perimeter of each pan to cover sides. Place remaining tortillas in bottom of pan. Bake in 375?F (190?C) oven for 8 to 10 minutes or until set and golden brown around edges. Let cool completely.
2. Meanwhile, heat remaining oil in large skillet set over medium-high heat; cook pork for 8 to 10 minutes or until browned. Add onion, garlic, oregano, chili powder, cumin, salt and pepper; cook for about 10 minutes or until softened. Add peppers and salsa; cook for 6 to 8 minutes or until reduced slightly and saucy. Let cool slightly.
3. Divide pork mixture evenly between tortilla-lined pans. Whisk together eggs, cream, Cheddar and chives; pour over filling. Bake for 45 to 50 minutes or until set. Let stand for at least 10 minutes. Slice into wedges.
Recipe Tip
Serving: Serve warmed or at room temperature. Place each slice on serving plate; top with 2 tbsp (30 mL) salsa and sprinkle with 1 tbsp (15 mL) each cilantro and green onions.