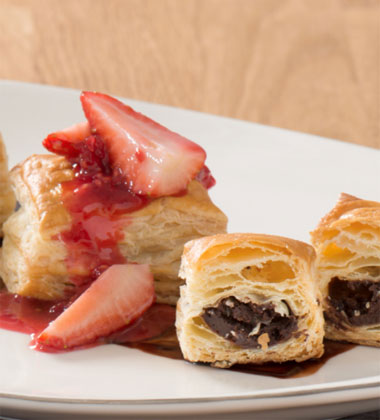 Nutrition Facts
Amount Per Serving
% Daily Value
Recipe Yields:
NOTE: Use your professional judgement when resizing recipes. Seasoning, cooking times, etc, may require adjustment.
| | | |
| --- | --- | --- |
| Ingredients | Metric | Imperial |
semi-sweet chocolate, chopped

250

g

8

oz
35% whipping cream

125

mL

1/2

cup
egg

1

1

water

15

mL

1

tbsp

Pepperidge Farm® Puff Pastry, thawed but still cold

All-purpose flour, for rolling

icing sugar

15

mL

1

tbsp
1. Preheat oven to 375°F (190°C). Line two baking sheets with parchment paper; set aside.

2. Place chocolate in a medium bowl. Heat cream in small saucepan over medium heat until just starting to boil. Pour hot cream over chocolate; let stand for 5 minutes. Whisk until smooth. Chill for 15 minutes.
3. Whisk egg with water; set aside.
4. Place pastry sheets onto lightly floured work surface. Cut each sheet into 36 equal rectangles (1.5" x 2.5"). Transfer half of the rectangles (1.5" x 2.5") to prepared baking sheets
5. Drop chocolate mixture by heaping teaspoons onto pastry rectangles on baking sheet. Brush edges with egg wash. Top with remaining pastry rectangles (1.5" x 2.5"), pressing edges together to seal. Brush with egg wash. Freeze for 10 minutes or until firm.

6. Bake in preheated oven for 20 to 25 minutes, or until pastries are golden brown. Dust with icing sugar.