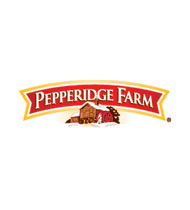 Nutrition Facts
Amount Per Serving
% Daily Value
Ingredients
INGREDIENTS: ENRICHED WHEAT FLOUR, VEGETABLE OIL MARGARINE (PALM, SOYBEAN,COTTENSEED, SOY LECITHIN), WATER, HIGH FRUCTOSE CORN SYRUP, SALT, ASCORBICACID.
There's no limit to what you can do.  Strudels and fruit flans, pot pies, Wellingtons and quiche.  You are limited only by your imagination.
Features And Benefits
Delivers a delicate, and flaky bite while saving valuable skilled labour.  Quality one can see & taste with a "better for you" perception versus the competition.  Never deep fried!  Ready in minutes any time of day.
Calorie Calculator
| | | | | | |
| --- | --- | --- | --- | --- | --- |
| | | | = | | Calculate calories right here! |
Preparation
Preheat in a conventional oven to 400 F (204C). Thaw pastry sheets for 10 min or until soft enough to mold. Chill in refrigerator (32F - 40F) (0C - 15C) until needed. Fill pastry sheets with the chosen recipe. Bake at 400F - 425F (204C - 218C) until puffed and golden brown. Baking time varies with the recipe.
Handling
Keep frozen until ready to use. Do not refreeze defrosted dough. Unused dough should be stored in an airtight container, refrigerated and used within 3 to 4 days.
Storage
Shelf Life: 12 months
Storage Temperature: C
Serving Ideas
Sheets and shells allow for the creation of a wide variety of tantalizing desserts and appetizers. Imagination is the only limiting factor.
Packaging Details
Case Size:
43.02CM x 30.00CM x 11.75CM
(L x W x H)
Other Information
For More Information call our Creating Possibilities Hotline at 1-800-461-7809
For more information on our products, contact your distributor or call 1-800-461-7687..
Supporting Materials
To find out more about our merchandising and point of sale options, contact your Campbell's representative or call (800) 461-SOUP (7687) and ask about how your operation can benefit from our support.