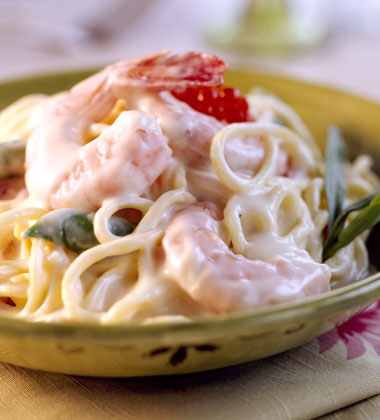 Nutrition Facts
Amount Per Serving
% Daily Value
Ingredients
WATER, CREAM, BUTTER, PARMESAN CHEESE, MODIFIED CORN STARCH, SKIM MILK POWDER, MODIFIED MILK INGREDIENTS, SALT, ROMANO CHEESE, FLAVOUR,SPICES.
A rich and creamy sauce, perfectly seasoned for any pasta of any shape or form.
Features And Benefits
Campbell's Frozen Sauce offer a fresh tasting, convenient and excellent sauce solution for your menu. Superior performance and quality.
Calorie Calculator
| | | | | | |
| --- | --- | --- | --- | --- | --- |
| | | | = | | Calculate calories right here! |
Preparation
Cooking Directions.  Remove plastic film.  1) Place 1 tray (2 blocks) of product in pot.  Cover.  Do not add water.  2) Heat (min. 80C/ 180F), stirring occasionally.  3) Reduce heat (70C/ 160F) and cover.  Stir periodically.
Handling
Do not re-freeze. Do not use if film is torn or missing. Do not hold refrigerated product longer than 2 days.
Storage
Shelf Life: 21 months
Storage Temperature: C
Serving Ideas
Ideal for Pizza, Sandwiches, Appetizers and Entrees. For variety try adding extra vegetables. To create a rose blend add alfredo with marinara sauce.
Packaging Details
Case Size:
45.09CM x 27.64CM x 7.80CM
(L x W x H)
Other Information
For More Information call our Creating Possibilities Hotline at 1-800-461-7687
For more information on our products, contact your distributor or call 1-800-461-7687..
Supporting Materials
To find out more about our merchandising and point of sale options, contact your Campbell's representative or call (800) 461-SOUP (7687) and ask about how your operation can benefit from our support.