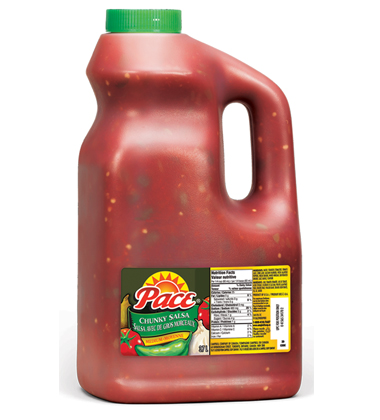 Nutrition Facts
Amount Per Serving
% Daily Value
Ingredients
Water, Tomatoes (tomatoes, tomato juice, citric acid, calcium chloride), Fresh Jalapeno Peppers, Fresh Onions, White Vinegar, Dehydrated Onions, Salt, Garlic and Flavour.
A thick, rich texture and bold chunks of fresh tomatoes, onions and jalapenos makes this the perfect dip, the perfect topping, or the perfect addition to any meal. Medium. Packed 4 jugs to a case.
Features And Benefits
Canada's #1 FoodService salsa. Pace Chunky Salsa provides consistent fresh flavour and appearance with no artificial additives, preservatives or thickeners. With no prep needed - just shake, open and pour.
Calorie Calculator
| | | | | | |
| --- | --- | --- | --- | --- | --- |
| | | | = | | Calculate calories right here! |
Preparation
Ready to use as a dip, topping, or condiment. Recipes are available for ingredient use.
Handling
Resealable plastic gallon container. Unopened--store in a cool dry place. Must be refrigerated after opening. Protect from freezing. Do not hold refrigerated product longer than 3 weeks.
Storage
Shelf Life: 12 months
Storage Temperature: C
Serving Ideas
All-purpose sauce. Use as a dip, topping, condiment or recipe ingredient. Pace Salsa is great to use during any day part.
Packaging Details
Case Size:
34.93CM x 27.61CM x 30.48CM
(L x W x H)
Other Information
For More Information call our Creating Possibilities Hotline at 1-800-461-7687.
For more information on our products, contact your distributor or call 1-800-461-7687..
Supporting Materials
To find out more about our merchandising and point of sale options, contact your Campbell's representative or call (800) 461-SOUP (7687) and ask about how your operation can benefit from our support.