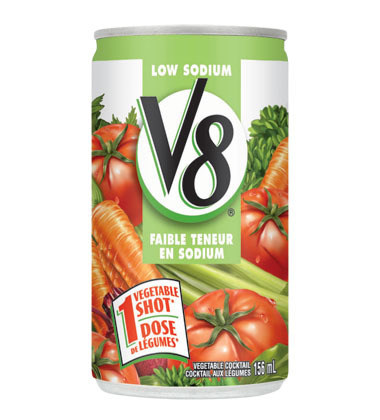 Nutrition Facts
Amount Per Serving
% Daily Value
Ingredients
Water, Tomato Paste, Juice of (Carrots, Celery, Beets, Parsley, Lettuce, Watercress, Spinach), White Grape Juice Concentrate, Potassium Chloride, Natural Flavours, Carrot Juice Concentrate, Ascorbic Acid (vitamin C), Salt, Seasoning. and Citric Acid (pH adjusting agent).
A delicious blend of eight vegetables combined to create a low calorie, low Sodium, nutritious and refreshing beverage.
Features And Benefits
Natural Source of Beta Carotene. Two full serving of Vegetables. No sugar added. No additives or preservatives. Low Sodium.
Calorie Calculator
| | | | | | |
| --- | --- | --- | --- | --- | --- |
| | | | = | | Calculate calories right here! |
Preparation
Shake well before serving.
Handling
Recommend use by date on container.
Storage
Shelf Life: 18 months
Storage Temperature: C
Serving Ideas
Promptly refrigerate any unused portion.
Packaging Details
Case Size:
33.00CM x 22.20CM x 19.70CM
(L x W x H)
Other Information
For More Information call our Creating Possibilities Hotline at 1-800-461-7687
For more information on our products, contact your distributor or call 1-800-461-7687..
Supporting Materials
To find out more about our merchandising and point of sale options, contact your Campbell's representative or call (800) 461-SOUP (7687) and ask about how your operation can benefit from our support.