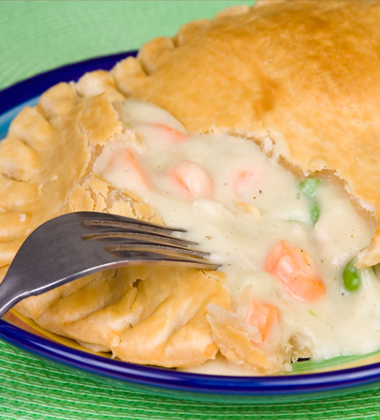 Nutrition Facts
Amount Per Serving
% Daily Value
Ingredients
Chicken Broth (water, chicken stock), Rehydrated Potatoes (sodium phosphate), Carrots, Peas, Modified Corn Starch, Celery, Onions, Canola or Soybean Oil, Wheat Flour, Salt, Beef Gelatin, Chicken Fat, Skim Milk Powder, Chicken Flavour (yeast extract), Spices, Beta Carotene, Lactic Acid.
Meatless Pot Pie Fillings (chicken and beef) offer a unique solution in maximizing the value of leftover protein (rotisserie poultry, beef, lamb, ground meat, seafood, pork and etc.) and convert surplus production into revenue stream.
Features And Benefits
Meatless Pot Pie fillings are affordable and can be used in a number of versatile applications in tasty and nutritious meals. They are easy-to-use and consistent quality and make a distinctive and naturally customized flavourful dish (depending on the protein profile).
Calorie Calculator
| | | | | | |
| --- | --- | --- | --- | --- | --- |
| | | | = | | Calculate calories right here! |
Preparation
The major applications are pot pies, meat pies and stews. For a pot pie: 1. Combine 2 parts of pot pie filling and 1 part of protein.2. Over medium low heat gently warm the mixture stirring often. 3. Once mixture has reached 165 f / 74 C°, transfer into pot pie dish and top with baked puff pastry top. Protein varieties are not limited to pot pie fillings flavor profiles.
Handling
Keep frozen. Ready to cook. Do not re-freeze. Do not use if film torn or missing.
Storage
Shelf Life: 21 months
Storage Temperature: C
Serving Ideas
Serve with fresh salad or steamed vegetables.
Packaging Details
Case Size:
45.09CM x 27.64CM x 7.80CM
(L x W x H)
Other Information
For More Information call our Creating Possibilities Hotline at 1-800-461-7819.
For more information on our products, contact your distributor or call 1-800-461-7687..
Supporting Materials
To find out more about our merchandising and point of sale options, contact your Campbell's representative or call (800) 461-SOUP (7687) and ask about how your operation can benefit from our support.