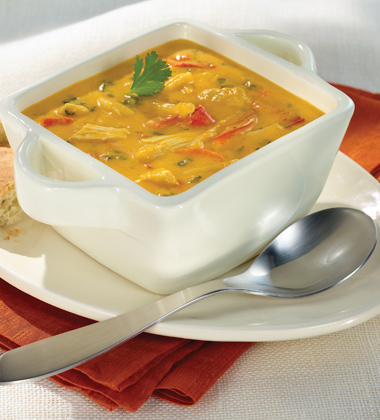 Nutrition Facts
Amount Per Serving
% Daily Value
Ingredients
WATER, CREAM (MILK), RED PEPPERS, SEASONED CHICKEN, ONIONS, CANOLA AND/ORSOYBEAN OIL, COCONUT, CARROTS, TOMATO PASTE, DICED TOMATOES (TOMATOES, TOMATO JUICE, CITRICACID, CALCIUM CHLORIDE), SUGAR, SPINACH, MODIFIED CORN STARCH, WHEAT FLOUR, SALT, GARLIC(CONTAINS CITRIC ACID), BEEF GELATIN, LIME JUICE CONCENTRATE, GARLIC POWDER, SOY PROTEINISOLATE, ONION POWDER, YEAST EXTRACT, SPICE EXTRACTS, CURRY POWDER, CORIANDER, CINNAMON,TURMERIC, FLAVOUR (CONTAINS CHILLIES).
Chunks of seasoned chicken and red pepper in a velvety broth, deliciously flavoured with creamed coconut, tangy lime and a hint of lemongrass.
Features And Benefits
Fully Prepared: Pouch saves time and labourEasy to prepare: Ability to boil in the bagConsistent taste and appearance every time
Calorie Calculator
| | | | | | |
| --- | --- | --- | --- | --- | --- |
| | | | = | | Calculate calories right here! |
Preparation
This product has not been fully cooked before freezing. Carefully follow the recommended cooking directions to assure complete cooking.1. From a frozen or thawed state, immerse pouch in boiling water2. Heat product until 80º C / 180º F3. Using a ladle or insulated gloves, remove pouch from water4. Open Pouch: Make a cut with a knife near top of pouch. Carefully pour into steam table insert or holding kettle.Do not add water or milk.
Handling
Keep frozen until ready to use. Ready to Cook. Do not re-freeze. Do not use if pouch punctured or torn.
Storage
Shelf Life: 21 months
Storage Temperature: -18C
Serving Ideas
"Condiment Caddy" - have your server offer an assortment of toppings at the table. Including crushed peanuts, shredded coconut, chopped cucumber etc. Serve soup in a bowl that is presented to your patron on a bamboo steamer lined with banana leaves (or other types of leaves/greens).
Packaging Details
Pack & Size:
4 x 1.81 kg (4lb) pouch
Case Size:
28.42CM x 24.61CM x 18.73CM
(L x W x H)
Other Information
For more information on our products, contact your distributor or call 1-800-461-7687..
Supporting Materials
To find out more about our merchandising and point of sale options, contact your Campbell's representative or call (800) 461-SOUP (7687) and ask about how your operation can benefit from our support.