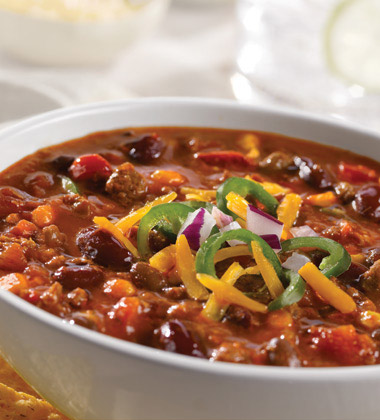 Nutrition Facts
Amount Per Serving
% Daily Value
Ingredients
BEEF BROTH (WATER, BEEF STOCK), DICED TOMATOES (TOMATOES, TOMATO JUICE, CITRIC ACID, CALCIUM CHLORIDE), SEASONED BEEF (BEEF, SALT, SPICEEXTRACT), TOMATO PASTE, KIDNEY BEANS, ONIONS, JALAPENO PEPPERS, GREEN PEPPERS, MODIFIED CORN STARCH, CAYENNE PEPPER SAUCE (CAYENNE PEPPERS,VINEGAR, SALT, GARLIC), GARLIC, CHIPOTLE ADOBO PUREE (DRIED CHIPOTLE PEPPERS, WATER, ONION, TOMATO PASTE, CANOLA OIL, SUGAR, VINEGAR, SALT, GARLIC, SMOKE FLAVOUR, SPICES), DEHYDRATED GARLIC, SALT, SPICES (CHILI PEPPERS, CUMIN,OREGANO).
A classic, Southwest-style beef chili crafted with a complex chili-spice blend.
Features And Benefits
Easy to prepare: Simply heat and serve
Ready-to Serve pouch saves time and labour
Consistent taste and appearance every time

Calorie Calculator
| | | | | | |
| --- | --- | --- | --- | --- | --- |
| | | | = | | Calculate calories right here! |
Preparation
Heat to 71°C (160°F) and hold for serving. Stir often. Do not dilute.
Handling
Keep frozen at 0°F (-18°C) or below. Thaw pouches (35–40°F / 2–4°C) for up to 15 days.
Storage
Shelf Life: 21 months
Storage Temperature: -18C
Serving Ideas
• Open Face Chili Burger
Smother a beef patty with Hearty Beef Chili with Beans, then top with cheese.
• Chili Fixin' Bar
Create a can't-miss chili bar with Hearty Beef Chili with Beans. For the ultimate custom experience, offer a vari¬ety of cheeses, onions, sour cream, jalapeños, avocado, corn, peppers and tortilla strips.
• Cheese and Chili Nacho Dip
Create a cheese and chili dip, then serve with tortilla chips.
• Mexican Layered Salad
Layer soup with shredded lettuce, chopped tomatoes, corn and avocado for a hearty lunch or dinner salad.
• Chili Dog
Heat up your dog! Simply top an all-beef hot dog with Hearty Beef Chili with Beans to create this on-trend item.

• Chili Bread Bowl
Pour Hearty Beef Chili with Beans into a sourdough, whole wheat or pretzel bread bowl for a stick-to-the-ribs entrée.
• Chili and Corn Bread Casserole
Top chili with a corn bread mixture and bake. Classic comfort food!
Packaging Details
Pack & Size:
4 x 1.81 kg (4 lb) pouch
Case Size:
48.10CM x 24.61CM x 9.84CM
(L x W x H)
Other Information
For more information on our products, contact your distributor or call 1-800-461-7687..
Supporting Materials
To find out more about our merchandising and point of sale options, contact your Campbell's representative or call (800) 461-SOUP (7687) and ask about how your operation can benefit from our support.