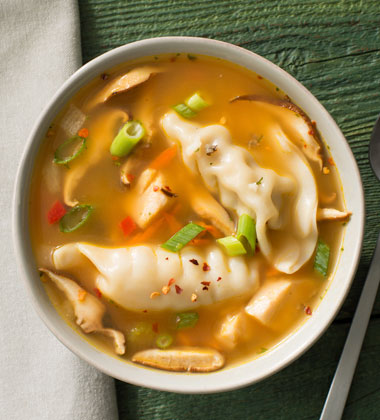 Nutrition Facts
Amount Per Serving
% Daily Value
Recipe Yields:
NOTE: Use your professional judgement when resizing recipes. Seasoning, cooking times, etc, may require adjustment.
| | | |
| --- | --- | --- |
| Ingredients | Metric | Imperial |
1. Prepare Campbell's Signature Chicken White and Wild Rice as directed.
2. Sauté mushrooms in oil for 6 minutes or until tender and lightly browned. Stir into soup.
3. Add gyoza, carrot, vinegar, soya sauce, green onion, sugar, ginger and crushed red pepper to soup. Simmer for 5 minutes or until heated through.
Recipe Tip
For each portion, ladle hot soup into serving bowl or crock. Garnish with sriracha.