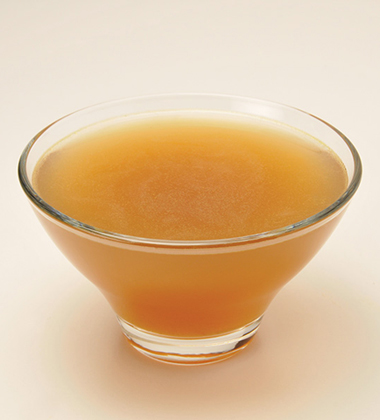 Nutrition Facts
Amount Per Serving
% Daily Value
Ingredients
INGREDIENTS: WATER, SUGAR, ROASTED ONIONS, SALT, SOYBEAN OIL, DEHYDRATEDSHIITAKE MUSHROOMS, YEAST EXTRACT, VEGETABLE JUICE CONCENTRATES(CELERIAC, CARROT, ONION, GARLIC, MUSHROOM), SESAME OIL, SPICE EXTRACT,SPICES, FLAVOUR.
Fully flavoured soup base, specifically developed for fresh garnish to be added for a complete soup flavour profile.
Features And Benefits
Easy to prepare: Thaw pouch 24 hours prior to heating, dilute 1 part water to 1 part soup base, pour base into rethermalizer and heat to 85°C (185°F). Product is produced Ready To Eat. The soup base's high flavor intensity is designed to provide a complete soup flavor profile once garnish is added in.
Calorie Calculator
| | | | | | |
| --- | --- | --- | --- | --- | --- |
| | | | = | | Calculate calories right here! |
Preparation
Heating Instructions: Dilute 1 part water to 1 part soup base. Heat until warmed through, approximately 85°C (185°F) and hold for serving. Stir often.
Handling
POUCHES / KEEP FROZEN / DO NOT USE IF POUCH IS PUNCTURED OR TORN.
Storage
Shelf Life: 24 months
Storage Temperature: C
Packaging Details
Pack & Size:
4 x 1.81 kg (4lb) Pouch
Case Size:
48.10CM x 24.61CM x 9.84CM
(L x W x H)
Other Information
For more information on our products, contact your distributor or call 1-800-461-7687..
Supporting Materials
To find out more about our merchandising and point of sale options, contact your Campbell's representative or call (800) 461-SOUP (7687) and ask about how your operation can benefit from our support.