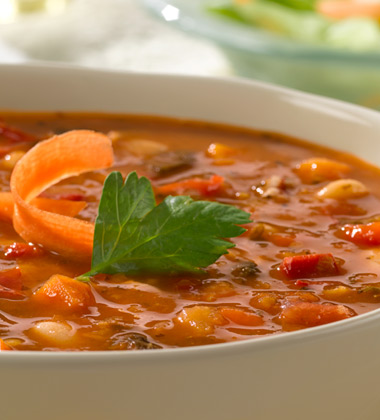 Nutrition Facts
Amount Per Serving
% Daily Value
Ingredients
WATER, TOMATO PASTE, CARROTS, DICED TOMATOES (TOMATOES, TOMATO JUICE, CITRIC ACID, CALCIUM CHLORIDE), GREAT NORTHERN BEANS, RED LENTILS, CELERY, RED PEPPERS, SPINACH, BUTTERNUT SQUASH, ONIONS, MODIFIED CORN STARCH, SALT, CANOLA OIL, SUGAR, GARLIC, BALSAMIC VINEGAR (CONTAINSSULPHITES), SPICES.
Made with carrots, tomatoes, Great Northern beans and red lentils, this hearty home-style soup is slow-simmered with aromatic herbs and a dash of balsamic vinegar for a sweet, savoury flavour.
Features And Benefits
Easy to prepare: Simply heat and serve
Ready-to Serve pouch saves time and labour
Consistent taste and appearance every time

Calorie Calculator
| | | | | | |
| --- | --- | --- | --- | --- | --- |
| | | | = | | Calculate calories right here! |
Preparation
Heat to 71°C (160°F) and hold for serving. Stir often. Do not dilute.
Handling
Keep frozen at 0°F (-18°C) or below. Thaw pouches (35–40°F / 2–4°C) for up to 15 days.
Storage
Shelf Life:
Storage Temperature: -18C
Serving Ideas
• Beans on Toast
Reduce soup and serve over crispy buttered sourdough. Top with a poached egg for a breakfast or lunch sandwich.

• Vegan Veg Quinoa
Toss soup with cooked quinoa, kale, red peppers, onion and a balsamic glaze for an easy vegan side dish.

• Vegan Veggie Burger
Mix Vegan Vegetable soup with black beans, cooking oats, red onions and seasonings. Form patties, bake and serve on lettuce cups or pitas.
Packaging Details
Pack & Size:
4 x 1.81 kg (4 lb) pouch
Case Size:
CM x CM x CM
(L x W x H)
Other Information
For more information on our products, contact your distributor or call 1-800-461-7687..
Supporting Materials
To find out more about our merchandising and point of sale options, contact your Campbell's representative or call (800) 461-SOUP (7687) and ask about how your operation can benefit from our support.