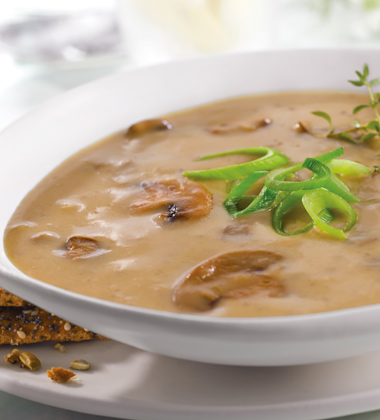 Nutrition Facts
Amount Per Serving
% Daily Value
Ingredients
WATER, MUSHROOMS, CREAM (MILK), ONIONS, MODIFIED CORN STARCH, PORTOBELLO MUSHROOMS, SHERRY WINE (SULPHITES), WHEAT FLOUR, BUTTER, SALT, YEAST EXTRACT (BARLEY), ROASTED GARLIC, DRIED SHIITAKE MUSHROOMS, SUGAR, ONION POWDER, SPICES, CARAMEL COLOUR, FLAVOUR (CONTAINS BEEF).
This rich, velvety soup features sautéed button, portabella and shiitake mushrooms accented with herbs and sherry wine for a deliciously indulgent twist on the classic French onion.
Features And Benefits
Easy to prepare: Simply heat and serve
Ready-to Serve pouch saves time and labour
Consistent taste and appearance every time

Calorie Calculator
| | | | | | |
| --- | --- | --- | --- | --- | --- |
| | | | = | | Calculate calories right here! |
Preparation
Heat to 71°C (160°F) and hold for serving. Stir often. Do not dilute.
Handling
Keep frozen at 0°F (-18°C) or below. Thaw pouches (35–40°F / 2–4°C) for up to 15 days.
Storage
Shelf Life: 21 Months
Storage Temperature: -18C
Serving Ideas
• Mushroom Gravy
Simply use as-is, pour over a grilled rib eye or filet.
• Mushroom Marsala
Simply reduce Sautéed Mushroom and Onion Bisque, add a splash of Marsala wine.
• Mushroom, Onion, Potato and Cheese Gratin
Cover potatoes and cheese with Sautéed Mushroom and Onion Bisque for a flavourful twist on classic potato gratin
• Beef Mushroom Stroganoff
An easy update to a classic comfort food staple.
• Mushroom Pot Pie
Just add Sautéed Mushroom and Onion Bisque to your pot pie base for a delicious take on classic comfort food.

Packaging Details
Pack & Size:
4 x 1.81 kg (4 lb) pouch
Case Size:
48.10CM x 24.61CM x 9.84CM
(L x W x H)
Other Information
For more information on our products, contact your distributor or call 1-800-461-7687..
Supporting Materials
To find out more about our merchandising and point of sale options, contact your Campbell's representative or call (800) 461-SOUP (7687) and ask about how your operation can benefit from our support.