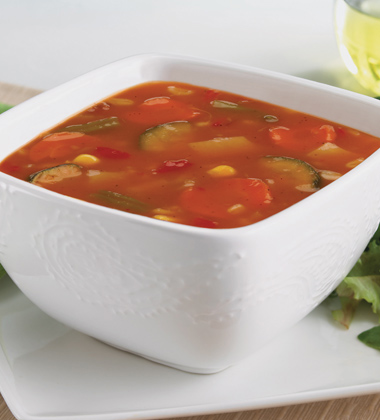 Nutrition Facts
Amount Per Serving
% Daily Value
Ingredients
Dehydrated Vegetables (potatoes, carrots, onions, red bell peppers, corn, green beans, zucchini), Maltodextrin, Barley, Modified Corn Starch, Hydrolyzed Soy, Corn and Wheat Protein, Corn Starch, Tomato Powder, Sugar, Sea Salt, Canola Oil, Potassium Chloride, Garder, Spice, Yeast Extract, Disodium Inosinate and Disodium Guanylate, Citric Acid, Salt, Flavour, Silicon Dioxide.
A medley of garden goodness, potatoes, sliced carrots, red peppers, corn, green beans and zucchini in a savory broth.
Features And Benefits
Easy to prepare: Reconstitute with water
Easy to store: Shelf stable requires no refrigeration
Made with sea salt. Only 480 mg of sodium per 8 oz serving.
Calorie Calculator
| | | | | | |
| --- | --- | --- | --- | --- | --- |
| | | | = | | Calculate calories right here! |
Preparation
Measure 4 litres (140 fl. oz.) of hot water into a saucepan or soup kettle. Gradually add contents of package, stirring briskly with a wire whisk. Continue heating at 82C (180F) with frequent stirring (do not boil). Reduce heat, cover and simmer for 20-30 minutes.
Handling
Do not use if pouch punctured or torn. Store at room temperature.
Storage
Shelf Life: 9 months
Storage Temperature: C
Serving Ideas
Use as an appetizer or as part of a light meal. Excellent for use on soup and salad bars, and serving lines.
Packaging Details
Case Size:
26.279CM x 19.929CM x 22.078CM
(L x W x H)
Other Information
For more information on our products, contact your distributor or call 1-800-461-7687..
Supporting Materials
To find out more about our merchandising and point of sale options, contact your Campbell's representative or call (800) 461-SOUP (7687) and ask about how your operation can benefit from our support.