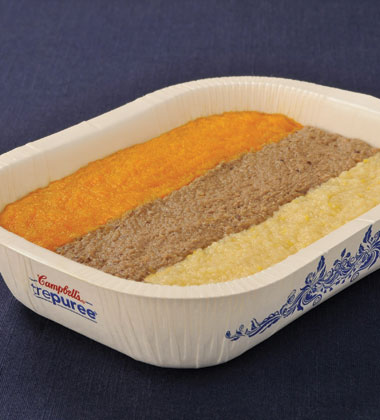 Nutrition Facts
Amount Per Serving
% Daily Value
Ingredients
REHYDRATED POTATOES (MONO AND DIGLYCERIDES, SODIUM PHOSPHATE, CITRIC ACID), WATER, BEEF, CARROTS, TURNIPS, KIDNEY BEANS, CANOLA OR SOYBEAN OIL, BUTTER, SOY PROTEIN ISOLATE, SKIM MILK POWDER, FLAVOUR, SALT, BROWN SUGAR, VINEGAR, SOY LECITHIN, XANTHAN AND LOCUST BEAN GUM, CARROT JUICE CONCENTRATE, DEXTROSE, CARAMEL, ASCORBIC ACID, BEAN SPROUTS, ARTIFICIAL FLAVOUR, SPICES, BETA CAROTENE, DISODIUM GUANYLATE, DISODIUM INOSINATE
A beef bourguignon pureed entrée, served with carrot, turnip and golden potatoes.
Features And Benefits
Trepuree's attractive presentation, delicious aroma and wide selection of pureed entrees will provide a nutritious, safe, pleasurable mealtime experience for those with swallowing difficulties
Calorie Calculator
| | | | | | |
| --- | --- | --- | --- | --- | --- |
| | | | = | | Calculate calories right here! |
Preparation
No need to transfer to serving dish. Simply thaw and heat (do not vent or remove film) in same "single use dish". If using Steamer method of retherm, place tempered meals in insert pan covering pan tightly with plastic wrap and foil. Heat for 45 min or to an internal temperature of 165 F. For retherm carts, conventional and convection ovens and heating from frozen, please contact your local Campbell Healthcare Representative.
Handling
Do not re-freeze. Do not use if film is torn or missing. Do not hold refrigerated product longer than 2 days.
Storage
Shelf Life: 15 months
Storage Temperature: C
Serving Ideas
Simply transfer to a serving dish, temper, heat and serve. Each 250g serving is portion controlled for meat, vegetable and starch.
Packaging Details
Case Size:
34.80CM x 31.50CM x 17.00CM
(L x W x H)
Other Information
For More Information call our Creating Possibilities Hotline at 1-800-461-7687
For more information on our products, contact your distributor or call 1-800-461-7687..
Supporting Materials
To find out more about our merchandising and point of sale options, contact your Campbell's representative or call (800) 461-SOUP (7687) and ask about how your operation can benefit from our support.